After disassembling all the objects in the current batch, the next step is to fix all the bugs and cracks. Unusually many in this batch are in need of creative repair. Here are some examples.
The guitar with the decoration in the sound hole needed several rounds of gluing. The sides needed to be glued to the end block and the entire lower part of the top needed to be glued to the sides. In addition, parts of the top's purfling were missing. Instead of remanufacturing the purfling, it was replaced with solid rosewood. It usually looks really good. The outer edge of the top was picked from an old leftover top to match the grain
As usual, the top's in the Levin guitars was about 3,5-4 mm thick. Maybe good for strength, but not good for the sound. The tops were thinned to just under 3 mm with the help of small planers and a sanding mouse. It is one of the things you actually have to work hard on!
The other Europeans had top's that were all about 3 mm and did not need to be thinned out. Except the old guitar with the monster bridge which had a top that was only about 2,3 mm thick. The top was deformed and had lots of cracks. To make it all work, I glued a plate in 1 mm thick spruce with the grain in the same direction as the top under the entire large bridge. It is tricky to glue such a large plate, to get pressure on the entire glue surface, I used a cut soft 4 mm yoga mat and a 4 mm thick piece of birch veneer as support for the clamps. The plate was glued to a curved surface, you do not want the top to be completely flat.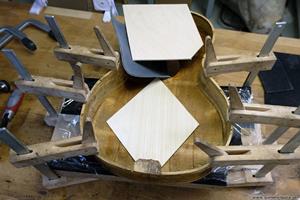 One Levin parlor guitar had some long and 2-3 mm wide cracks in the top. To fill in the cracks, I cut triangular sticks from another old top with about the same color in the paint as the guitar. A board is perfect as a base for cutting with a carpet knife. It is a bit of a chore to grind in the sticks so they fit in the cracks before the actual gluing.