Sometimes you want to keep the old grip board. This is not without problems as the cutting of the straps can be wrong and the board too thin. The board in the comic had both problems, but was in fine rosewood. Started removing the old straps and sawing out wider grooves with a fine carpenter saw. The grooves become 1 mm wide and can be filled again with sticks of rosewood with the same thickness as the groove.
Make the knits with my roller tips and cut pieces to the right length. The pieces are cut in half with the widest chisel and fill in two sawn grooves.
Warm skin glue is blended with dust from rosewood. Skin glue is the best glue when you can dress as you like, but it is easy to wipe the excess with a damp cloth. The sticks are glued and squeezed while the glue dries. When everything is ready, the glue will dry under pressure for an hour.
When the sticks are glued, I cut off the ends of the sticks with a tie rod, planed away the worst and then sanded with sandpaper and metal file.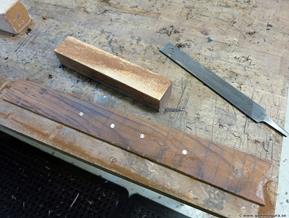 A grip board must be at least 5,5 mm thick to hold well. Old boards can be as thin as 3,5 mm, this was about 4 mm thick. Cut to a plate in rosewood that was sanded to about 1,5 mm thick and glued with skin glue.
To get all the tracks straight I glue the board centered on a plate. Tape masking tape on the underside of the board and the plate, wet one piece and put some super glue on the other. The moisture activates the glue so it dries quickly. With a plate spade in sheet metal it is easy to get rid of the board from the plate even though it sits very well while sawing the grooves in the Stewmac jig. The board is ready for mounting on the neck.
Here you can see that some of the first bands were wrong about 1,5 mm.