Next time I will make sure the new strings are tuned before delivery! At the end of the sound check, he saw the guitar for the first time, he had forgotten that it was on its way. A fun detail is that the Waverly sticker I put on the Gator case says that the company was founded in 1918 - the same year the guitar was made 🙂
He was a little surprised at what he heard!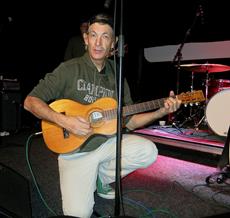 Then he pulled an old classic country song standing upright 🙂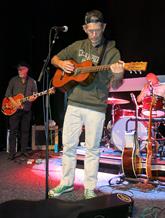 Later in the evening I got the chance to sit on the backstage couch with Doug and the band. Doug is a very kind and humble person who also has a seriousness and a depth in what he does. Marked by his years and his drug addiction, he is and has a little difficulty with the immediate memory, but when it comes to music he has full control. The band tells that he played in his hotel room even after a gig and that he can suddenly pull on a soundcheck a song no one has heard before. He has his head full of music.
He was very interested in what was done on the guitar and I told in detail about it. To my surprise (did not know it before) he was very knowledgeable. He has been a furniture carpenter for 30 years and has made his own guitar and a mandolin in his workshop! We talked about wood and how it is meditative to build guitars. He does not need a guitar mech, he makes all the adjustments he needs himself. He made bones and bone meal for the upper saddle and stable by boiling the bone in a T-bone steak and sides for his builds he bent with a steel pipe with a gas burner in!
He noticed, among other things, that there was a screw through the neck block from the inside and he said "You should trust the glue!" and laughed. He is absolutely right in all other cases, but the neck attachment on Levin needs help as it is not a real dove tail. Virtually all old Levin has come loose in the neck attachment when the glue has lost its strength. I tried to explain but do not know if I succeeded.
The concert was fantastic. What impressed me most besides his songs and singing technique was his small talk. He is a born entertainer and sometimes stopped by and told a little about how songs came about and some anecdotes from the crazy time just after he was discovered in Jill Jonsson's program.
It has started to move in the US as well, songs from his album have started to be played on national radio in Nashville - a big step for a musician in the US.
Most likely, GammelGuran will be aired on one or two calm songs on stage during the rest of the tour. His in my opinion not so good dreadnough with piezo pickup will continue to be his workhorse. With a full band, the attack from someone like that is needed, GammelGuran's soft sound drowns in the sound mass. In any case, I hope he likes and sticks to the guitar and uses it as his songwriting guitar.
I am very fussy with music, it happens less and less often that I start a new artist - it usually takes a few years between each time. As soon as I heard Doug on Jill's Porch, I realized that this was something very special. I think he blew the others off the stage with his presence, voice and music. Now that I have seen him live, I have not changed my mind, on the contrary. He can take anything and turn it into gold with his God-fearing voice and genuine musicality.
I'm so glad I got the chance to give him that guitar! "I'm not worthy" as Doug said on stage when he officially got it 🙂