The latest one that was completed is a cool old guitar from around the 1910s. Sold by JP Sjöberg in Sundsvall, the deal was active from the 1870s until the 1950s. Have seen several guitars with the same type of pearl murmur around the sound hole. Great worse.
Cracks in the lid and a slightly too thin fretboard in Brazilian rosewood (smelled good when sanded!). It had a stab wound in the rim at the end block, a hole that was "repaired" with a glued red rubber plate 🙂 Pieces of the rope binding on the lid were gone. Replaced the missing pieces with wood, looks good and I also think it's charming that repairs are not completely invisible on such old guitars!
Nice mustache stall, the dots on top of the mustaches that fell away were made of two sawn-off heads from a pair of the original sticks. The sticks were replaced with new ones in ebony that I drilled a pearl mortar into. New sticks are exactly the same size while the old ones are all different. There were only two really nice original sticks as well. The tuning screws were loose and replaced with new ones. Carbon fiber rod in the neck in the usual order and a K&K was mounted. No major problems, the bottom was not shrunk and fit well when I glued it back.
Sold to Öland.
Glued the stable before I realized that the distance between the string pins and the front edge of the stable was too short for an intoned stable leg. Used the trick to tilt all the bands to be able to intonate correctly. The old tracks for the bands (which were placed a bit hip as happ as usual) were filled in with rosewood moldings and new inclined tracks were cut in the right place.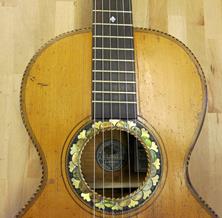 The thin grip board was laminated with another thin piece of Brazilian rosewood that I received from Per Marklund. Glued with skin glue and the tone of the board became very good!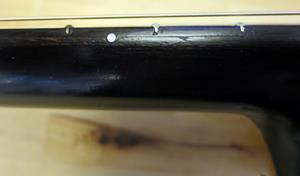 Some details.
Forgot to glue in the GammelGura label as usual and had to string it off and on one last time 🙂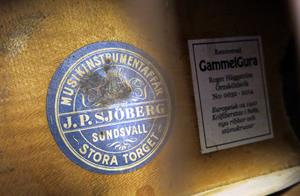 This became one of the guitars I'd rather keep. Really liked the old-fashioned tone of light construction. String on with Newtone Heritage 0.11 and recorded a sound sample.
Old Gura 32