Made an exchange deal with bluesjohan in Östersund. He was looking for his worst wreck, a "cowboy guitar" with unique print. Just that I already had one like it in a box at home!

Got a surprise when it appeared, it was child-sized, only 80 cm long. A Terz guitar is what it is. Here are pictures of both charms.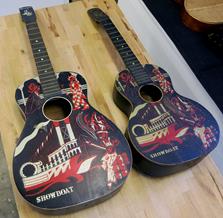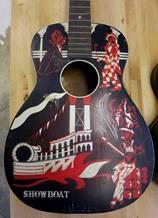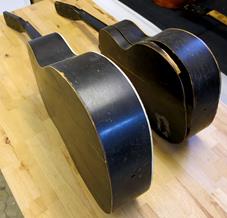 The one I got from Johan was not without problems, a small crocodile gap.
Both had only small remnants of a Supertone label per se, but there is a Harmony stamp with four digits indicating the year. My big one is from 1935, the small one from 1936. Solid wood, probably birch straight through the lid as well. The motif may be controversial for some, I like it!
A Terz guitar has a shorter string length, about 55 cm. it is tuned like a guitar but with three half tones up. Much like a guitar with capodaster on the third band.