The week before the fair in Umeå, I realized that I needed an GammelGura to sell. I chose one of all the parlor guitars I have hanging on the wall in the apartment, a Levin 1926 in good condition so as not to have to spend a lot of time on repairs.
The old parlor model with a slotted head was on its way out in 1926, the youngest I have seen I think was from 1929. Around 1930 the old models were phased out, and a flat head replaced the slotted one. I think that during the transition, they made sure to use up all the old material that was in stock, including the rosette with mother-of-pearl as on this one. In the early 1930s, a layer of extra fine flamed birch was also used on relatively simple parlor guitars with flat heads and floating bridge. They are very beautiful, but basically cheap guitars.
This one also had a celluloid binding around the bottom which became common on the newer models.
Well. I worked hard with it to get it ready on time, there were a few extra evenings in the shop and smart planning so that glue and varnish would have time to dry and the neck settle. Now, of course, the neck was in hard birch and did not give in after more than a couple of tenths at the 12th band with strings at tension a couple of days.
I took some pictures of the gluing of the bridge. The bridge was glued, and the top was broken under the bridge, so I glued a shim in spruce over almost the entire surface so that the stable would sit properly. Nowadays, I make four plugs, one hard in birch on thick E and end wood in spruce for the other spun strings. The treble strings b and e are dampened with the soft spruce in the bridgeplate and top. My new favorite tool, a toothbrush on an 8 mm birch rod, was used to clean off excess hot hide glue.
Bottom and top, before bottom gluing the bottom, with mounted K&K mic.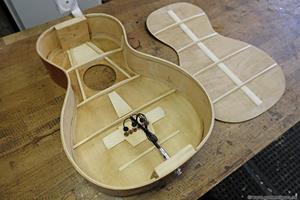 Instead of fish glue to glue the bottom, I tried for the first time to mix the usual hot hide glue with 10% (of the volume of the hide glue granulate) with urea to extend the gluing time. Fish glue is good, but genuine hot hide glue with urea is better. By spending some time heating the joint and the glue at the bottom when gluing, it worked beyond expectations. It got a little sticky the first time when I did not apply the glue first but applied with a spatula as it goes. It becomes less smudged by first applying glue along the entire edge and then heating the glue liquid again as I did on later bottom glues. Very good!
GammelGuran was sold to a very satisfied customer at the fair in Umeå 🙂