It's on it's way. All six guitars in the batch have been repaired, the bottom and ltop have been thinned where needed, the necks have been given a carbon fiber rod, the top and bottom have been given new braces.
Three in the batch have the same buyer, I intend to complete the three in parallel first and maybe do a few small things with the others in the meantime. The focus is on the three that have now had the bottom glued, bridges and fretboards made and each one a K&K pickup. I have also fitted plugs and reinforcements around the stringpin holes.
This is the situation right now. I'm looking forward to hearing if the extended bridge plate gives a quicker response, judging by the Anderberg with a similar bridge plate, there is a good chance that it will be so :-)
Two of three Levins in the same number order from 1920 and a "grandma" guitar, a European curved guitar from about 1910. The Levins get a new rosewood board, the "grandma" guitar gets a mustache bridge and a fingerboard in plum wood.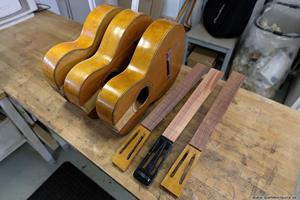 The other three are a good distance along the way too.