Thanks to friendly people at "Swedish Guitar & Lute Society"I received a copy of an article about Gottfrid Söderman from the member magazine number 2 in 1972.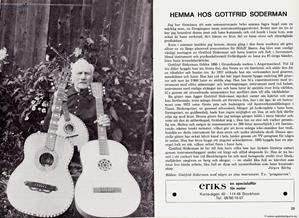 A nice read about an odd original when it comes to guitar building in Sweden. According to the article he started his production in 1917, I myself have seen a lute dated 1924 as the oldest. He made around 500 guitars and 2000 lutes during his long career. It seems that he was an active builder even at a high age. Lutes I have seen many but never a guitar. I thought. It turned out that the odd and large guitar I bought at an auction in Ö-vik a few years ago is similar to his award-winning guitar in the picture! Clearly a Söderman. Now one wonders what special TV program it was that the award winning guitar became famous 🙂
Haven't decided what to do with my Söderman guitar yet. It's big and downright awful for someone who likes the simple, yet cool. Someone has been on it and ripped off the bottom bar in the lid of six, probably to make it sound better. Maybe it was Söderman himself who adjusted the tone. The bottom also has the six powerful cross bars. As always, it is plywood at the bottom and most likely side, the lid is in solid fir. Hard to say what age it is, but the knobs of the tuning screws breathe in the 1940s or 1950s. The stall completely lacks stall legs! Get to grips with this now that I know what it is.
The decorations at the end of the stable are actually whole string sticks! The rivets are metal screws with a nut on the inside. Typical different solutions to a Söderman I would say 🙂