Received a Levin 12th from 1962 that the customer wants to get repaired and then sell. It ended with the studio TonTeknik in Umeå bought it and I fixed it so that it would sound better. Thought it was a bit dry and limited in tone. Opened the bottom and got a surprise. Levin, which otherwise always has a high quality for most, had a 5 mm plywood slab that covered a quarter of the lid under the stable! No wonder things like this never sound good in original condition.
This is how you can't have it. Removed the rubbish and replaced it with an X-rib.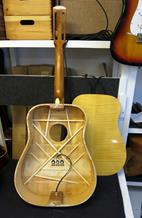 Also modified the stable from "string through" to a stable with string sticks. Some pictures of the finished guitar. New tuning screws and a mounted K&K mic complemented the modification.
What a difference in the sound for the better! I like to do this again. The LT-5 and LT-4 12s usually aren't expensive to buy, but there is a jewel hidden in it 🙂